Press play on these evocative, tropical Spotify playlists, close your eyes, and take yourself to the islands of New Caledonia, Hawaii, Cook Islands, and Tahiti.
Music is a powerful medium. It can elicit all kinds of emotion and bring up some of your fondest memories; it can even transport you to places you haven't yet been. Do yourself a favour and take yourself to the shores of some of the world's most beautiful islands with these specially curated tropical Spotify playlists.
Cook Islands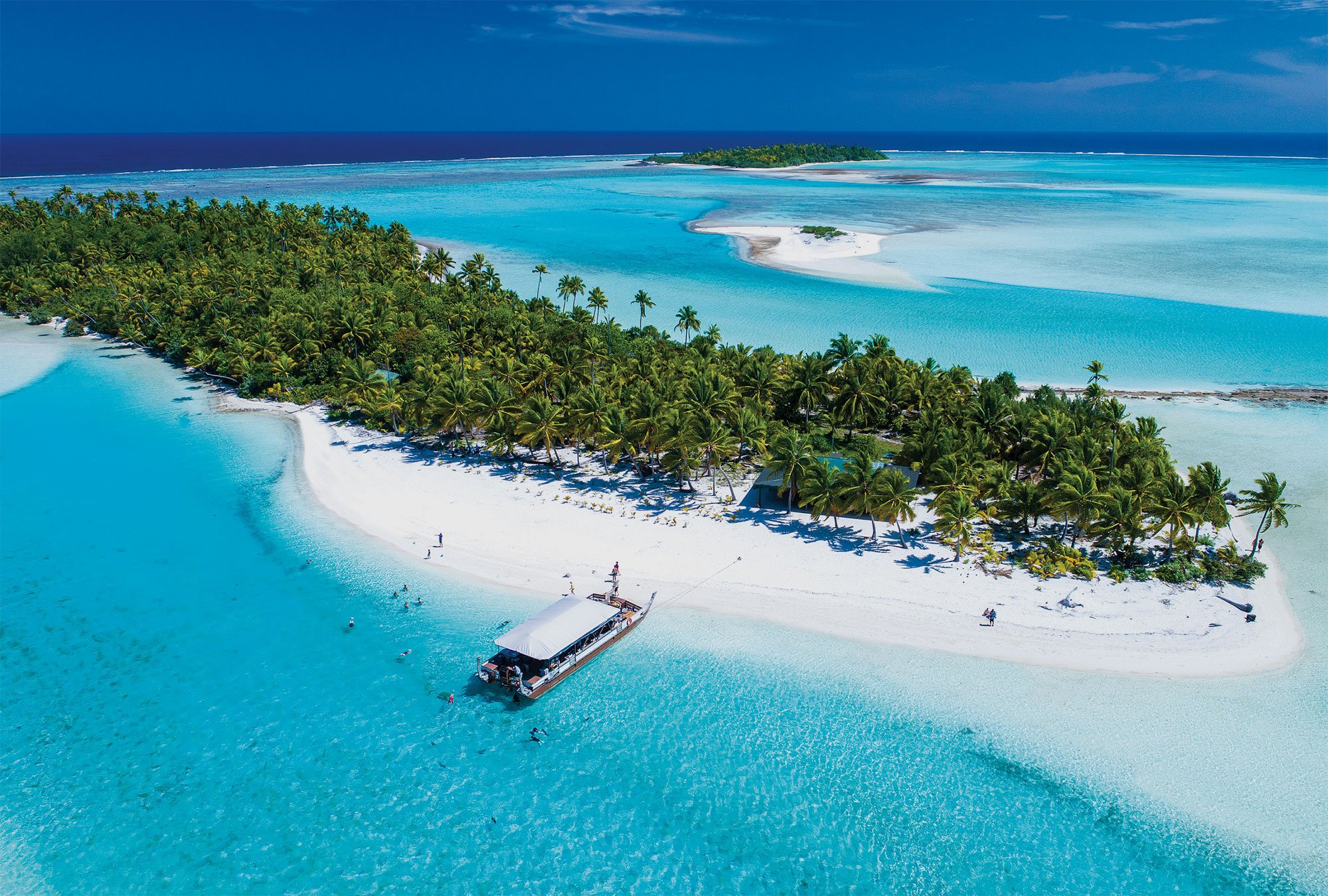 They're not as well known as the likes of Bora Bora or Fiji, but the Cook Islands, their azure waters, and their light and uplifting music should definitely be on your radar and your playlist. Cook Islands are a group of 15 islands sandwiched between New Zealand and Hawaii in the Pacific. Considered a part of Polynesia, the music from the Islands is known for its distinct relaxed sound and twinkling guitar melodies. Pop a Cook Islands playlist on and you'll be shaking yourself up a cocktail to aid those holiday feels in no time.
Hawaii
Hawaii is known as the land of the hula, luau, and mai tai; and you may as well add 'the land of ukelele' to that list too. The instrument actually hails from Portugal, though after arriving in Hawaii it became so popular that it is now synonymous with Hawaiian music and culture: it wouldn't be Hawaiian music without it. The ukulele's dainty sound will have you transported to Hawaii in no time, but some classic Hawaiian steel guitar will (arguably) do the job quicker. Pull out your Hawaiian shirt, pop this playlist on, and embrace that Aloha feeling!
Related reads: Hawaii's Big Island Itinerary You Need For An Epic Getaway
New Caledonia
For a tiny island, New Caledonia in the South Pacific certainly punches above its weight. The beaches are long and white, the water is a shade of blue you never knew nature could produce, and the French influence adds just the right touches to the cuisine and culture of the island. As far as music goes, New Caledonia – like most islands in the present day – is a mixed bag. But, it's the sounds of local bands like We Ca Ca that will really inspire those island holiday daydreams. Alternatively, check out the collaborative song between Crooked Colours and New Caledonian Tourism for a peek into some of the island's everyday sounds.
Tahiti
The figure-8 shaped island of Tahiti is French Polynesia's biggest, and the economic, cultural, and political centre. As well as being the beating heart, Tahiti can be considered the region's musical centre too. The rich Polynesian culture lends its sweet ukulele sounds, rhythmic drumming, and melodic harmonies to Tahitian music. Make those daydreams of those gorgeous overwater bungalows in French Polynesia just a little bit more real with the help of some classic Tahitian tunes.
Feature image: Hawaii Tourism Authority (HTA) / Vincent Lim
See more: Latest Stories