Make the most of your time – and baht – in Bangkok with these Bangkok experiences.
There's nowhere else quite like the buzzing, vibrant city of Bangkok. It's a city bursting with new and interesting smells, sights, and sounds. It's an assault – of the best kind – on the senses.
With so much to do and see in the sprawling city, it can be hard to know where to start. So, we've taken the liberty of listing out eight of the must-have Bangkok experiences. Get your baht at the ready!
Sip on a cocktail while sky-high
Take your Bangkok holiday to all new heights with a cocktail (or few) at one of the city's many rooftop bars. They're dotted liberally throughout the city, you just have to look up to find them.
In a country where the weather barely ever drops below 30 degrees, it seems only logical to make the most of the balmy evenings at a rooftop bar. It makes even more sense to find a rooftop bar with a pool nearby – a la Hotel Indigo Bangkok Wireless Road. Not only do they have a gorgeous rooftop bar, Char, but there's a perfect little poolside bar so you can swim, check out the incredible view, and indulge in a tom yum inspired cocktail.
If you're not up for the poolside bar, there are ample other choices for a sky-high spritz. Our best advice? Make it to the bar for sunset so you can catch a kaleidoscopic sky show – it's one of many unbeatable Bangkok experiences!
Related reads: Samui Sojourn: This Is The Ultimate Couples Weekend in Koh Samui
Treat yourself to a luxe spa experience
It would be a sin to travel all the way to Bangkok without having a cheap and cheerful Thai massage. In fact, have a few. They're worth every single baht, but if you're after an experience with a bit more depth than a good massage, book yourself an hour or two in one of Bangkok's best day spas.
Tucked away in one of the two massive towers at Marriott Bangkok Marquis Queen's Park, Quan Spa is the ultimate in luxury. So much so, it's claimed the title of 'best hotel day spa in Bangkok'. Given that there are more hotels and day spas than you would care to count in the city, that's no mean feat.
As soon as you step through the front doors at Quan Spa, you can feel your shoulders drop and step lighten. There's absolutely no mistaking that this is where you should be to find your zen (and find it, you will!). Head in for a sumptuous one-hour Thai massage, complete with a pearl white robe, slippers, and a welcome foot bath. Or choose to indulge yourself in a more comprehensive package over a few hours. Go on, you deserve it.
Related reads: Live Like A Royal At The Marriott Bangkok Marquis Queen's Park
Explore Bangkok's lesser-known side by bike
You've done all the tourist attractions Google suggests you see in Bangkok – Khaosan Road, the weekend markets, the Grand Palace – so where next? Jump on a banana yellow bike with the crew at Co Van Kessel, and explore the back streets of Bangkok's neighbourhoods to see what really makes the city tick.
Work off all the pad thai on a 3-hour, half-day, or full-day biking tour through parts of Bangkok you never knew existed. The tours see you pedal through narrow alleyways of Bangkok's suburbia, through lush, green rice fields, and up to some of the city's biggest and most ornate temples. Worried about all that biking? No need to stress – on the half and full-day tours, your legs get some time out as you boat down the snaking waterways of outer Bangkok.
Co Van Kessel provides everything you need for your biking adventure, just bring your camera and your desire for adventure. It's also wise to wear shoes and clothing you don't mind getting super sweaty, or drenched if you get caught in the rain.
Related reads: Pedals And Pad Thai: Exploring Bangkok By Bike
Chow down on some street food
If ever there were a city to explore by mouth, it's Bangkok. The street food scene in Thailand's capital has to be seen (well, tasted) to be believed.
You can find street food vendors on just about every corner of every neighbourhood. When it comes to the city's famed flavours, the question isn't 'where?', it's 'what?'. You're not short on choice when it comes to choosing a tasty Thai morsel. There's everything from a street-side Thai basil chicken stirfry, satay, or papaya salad, to the more adventurous fried bugs (found near Khao San Road) or blood noodle soup.
Though you can get street food anywhere, you can't start your Bangkok street eats journey without paying Chinatown a visit. For authentic Thai flavours at the best price, Old Town is a must. You'll find a lot of otherwise hard to find dishes still being made here, all for just a few baht.
Hit up Chinatown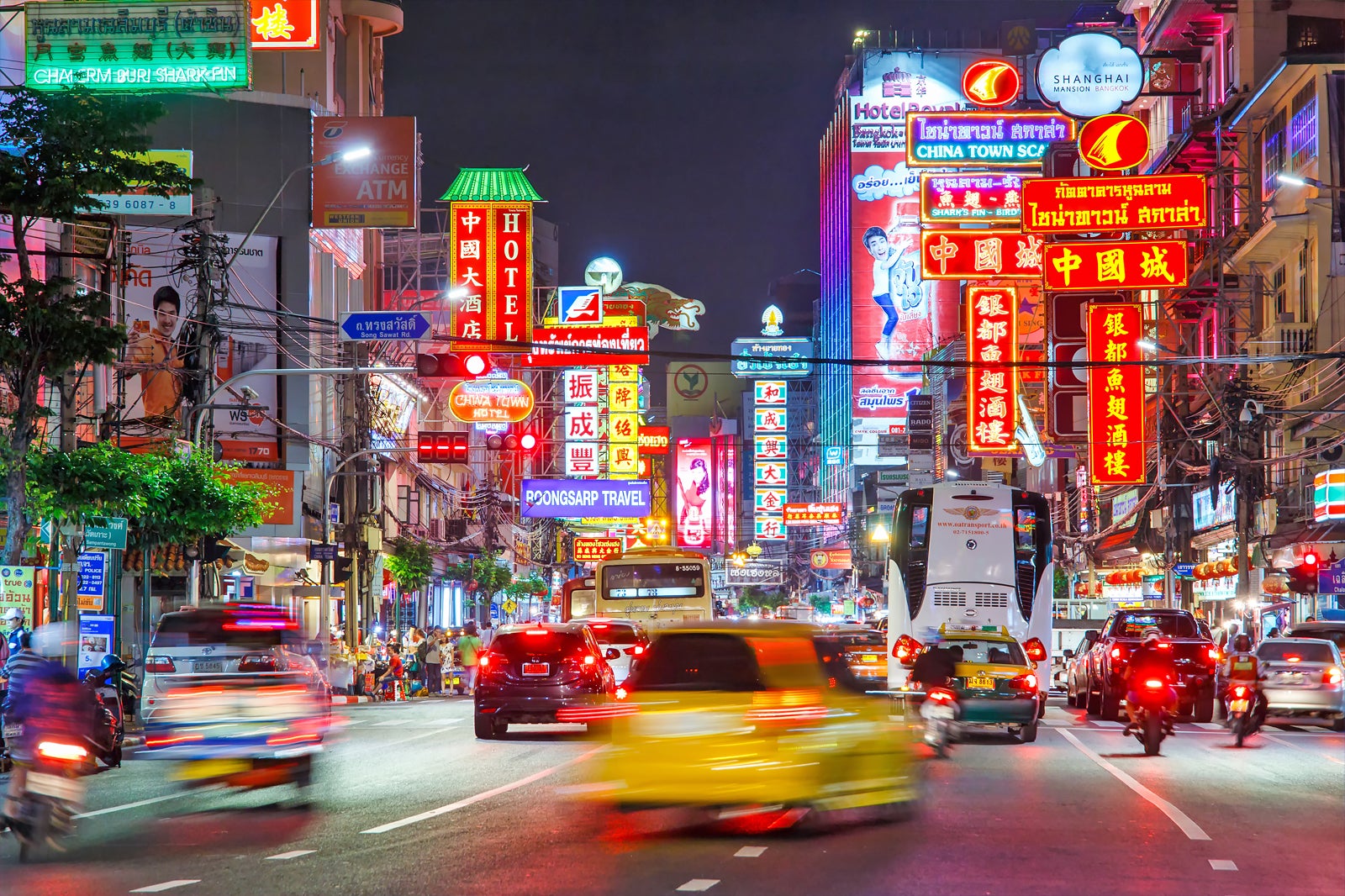 Set just a few streets back from the Chao Phraya River, you'll find Bangkok's bustling Chinatown district. It's one of the most vibrant parts of the city with its bright lights, sumptuous scents wafting from the street vendors, and busy beeping out on Yaowarat Road.
A known hotspot for street food, there's more to Chinatown than just the delicious food being pumped out. Take, for example, the architecture. There's the huge, ornate China Gate at the western entrance of the area, and the stunning Wat Traimait temple (it's home to the world's largest gold Buddha). And – like all good Chinatowns around the world – shopping there will have you sifting through a treasure trove of trinkets.
Bangkok's Chinatown district may tick many of the same boxes as other Chinatown's around the world, but it does have one box that only they can tick. If you hunt down the famed Wat Chakawat Ratchawat, you'll get to meet the temple's resident crocodiles. Yep, this Chinatown has real, live crocodiles living in a temple pond.
Find a bargain at the weekend market
If you can't find it at the Chatuchak market (otherwise known as the weekend market), you won't find it anywhere else. With over 8000 stalls, this sprawling sea of canvas canopies is officially the largest market in Asia. It's the mother of all markets.
Expect to see everything from food stalls and fresh produce stalls, to vendors selling clothing, toys, art, and electronics. There's a lot to see. Though it might sound a bit overwhelming, the thousands of stalls at Chatuchak are surprisingly well organised. If you know what you're after, simply head make a beeline for the section – yes, the market is organised by sections – that caters to it (i.e. art in section seven).
Oh, and expect a ton of bartering too. Everything is pretty cheap to begin with, but brushing up on your bartering skills will help you get a better deal when purchasing in multiples from the one stall.
Go for a stroll down Khaosan Road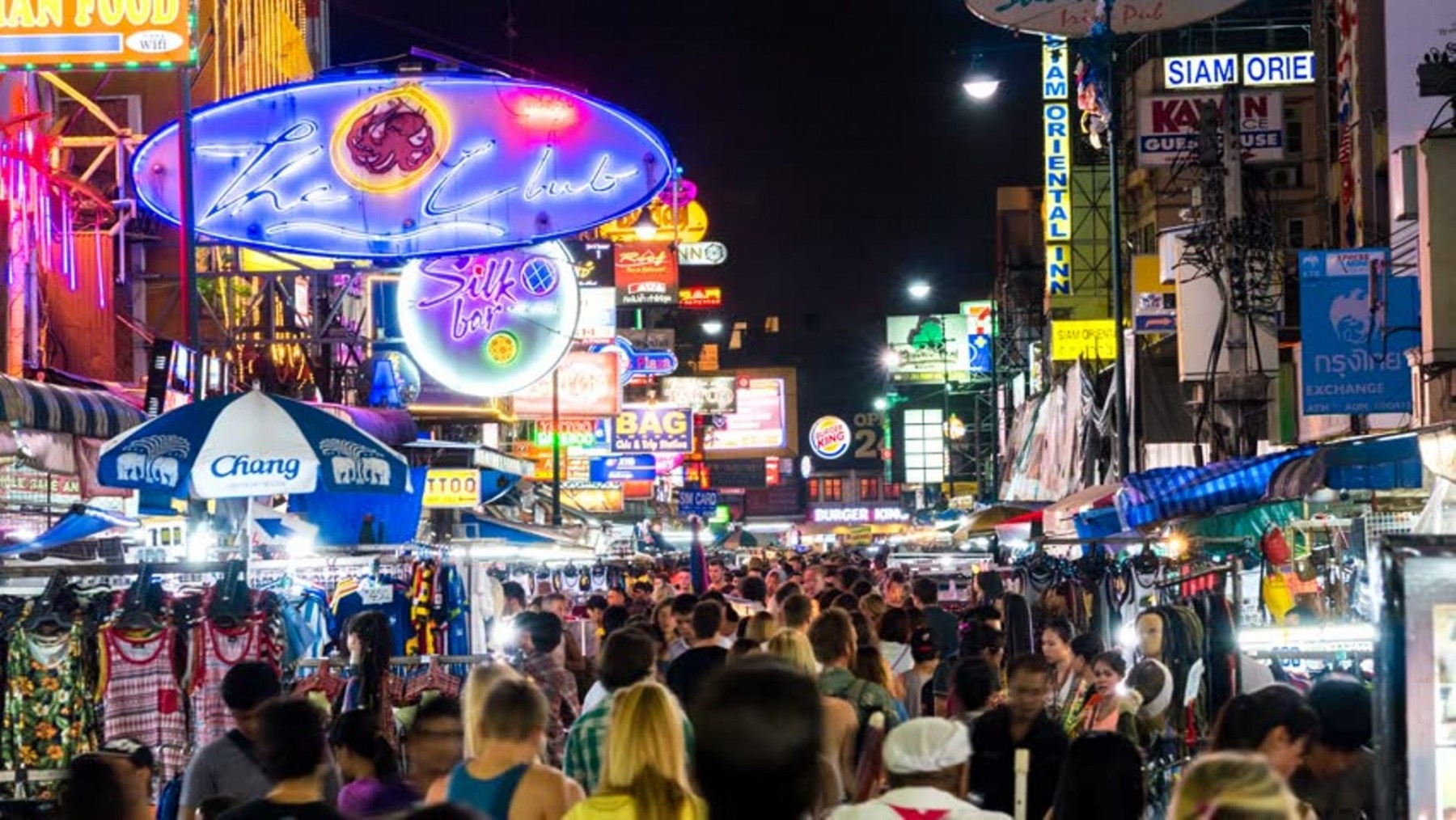 It may only be small, but Khao San Road sure is mighty. Known as backpacker central, this little strip is one of the liveliest in all of Bangkok. So lively that it's a strip that never sleeps…
Needless to say, there are plenty of watering holes on the strip, most of which are slinging cheap beer and eats for just a couple of baht. It's all too easy to get carried away on the beers and the upbeat vibe, and party on into the night. Try heading to Brick Bar for a singalong and some table dancing (PG of course), or keep things a little more chill with some live blues at Adhere the 13th Blues Bar.
If you're on a budget, this area also has some of the most wallet-friendly accommodation. It isn't a backpackers mecca for nothing!
Get stuck into Bangkok's best Indian food
Sure, it's not what you came to Bangkok to eat, but when you're one larb gai short of a Thai overdose, it doesn't hurt to change things up with some of Bangkok's best Indian fare. Forget butter chicken or onion bhaji because the Rembrandt Hotel's opulent rooftop restaurant, Rang Mahal, is miles above your standard Indian restaurant.
It's one of Bangkok's most awarded Indian restaurants, and it's not hard to see why. Firstly, it's stunning. Once you've marvelled at the exquisite view from the rooftop, you can spend some time soaking up the stunning palatial interiors (think ornate white arches, embroidered table dressings, and plenty of chandeliers). Most importantly, the food will have you salivating before it's even hit the table.
Serving mostly northern Indian cuisine, Rang Mahal is the best place in Thailand for you to expand your knowledge of the Indian culinary landscape. Their specialities are dal-maa-rang mahal (overnight black lentils with tomato, butter, and cream), a tandoori seafood platter, and gulab jamon (cream cheese dumplings with cardamom and saffron), but take your pick of anything on the menu and you're guaranteed a memorable Bangkok experience.
See more: Thailand travel
Feature image: @florianwehde
Explore more things to do in Bangkok