If you want the ultimate winter Christmas vacation, then add one (or all) of these to your (Christmas) wish list.
In Australia, our perfect kind of Christmas is a day at the beach, firing up the BBQ, and spending time outside with our friends and family.
Well, that's if it isn't 40+ degrees.
It might be the only kind of Christmas we've experienced, but it's not the only kind of Christmas we know. Thanks to Hollywood, we've become accustomed to those ugly Christmas sweater, mulled wine, and snow-filled Christmases of the Northern Hemisphere. Don't get us wrong, we love our prawns and beach cricket, but the snowy flip side is just 'so Christmas'.
If you want to experience a winter Christmas like the ones you see on the big screen, make note of these winter Christmas destinations and start planning!
North Pole, Alaska
The North Pole is a place so nice, they made it twice. Obviously there's the real deal north pole that geography decided for us, and then there's this fun and festive North Pole, 200km south of the Arctic Circle.
It doesn't need to be Christmas to visit Alaska's North Pole, because this city is unapologetically Christmas year-round. But, you really can't beat being caught up in all that festivity when the town is covered in a dusting of snow. It makes the experience of visiting 10 times more special.
The town's main attraction is Santa Claus House – a fun gift store with a giant Santa, and a group of domestic reindeer, out the front. There's even Christmas themed streets, including Santa Claus Lane, St. Nicholas Drive, Snowman Lane, and Kris Kringle Drive. Expect to see lots of cute Christmassy things as you pass through the town, like candy cane street lights, green and white police cars (which perfectly compliment the red fire trucks), and plenty of snow-topped Christmas trees.
Oslo, Norway
For a good dose of that fairytale spirit at Christmas, you can't go past Oslo. From late November through to the new year, the city is twinkling with thousands of lights and blanketed in fluffy, white snow (well, there's only a small chance it won't be a white Christmas). The Norwegians sure know how to extend out one of the most magical times of the year!
Like most good European cities, Oslo has a banging Christmas market. In fact, they have two – The outdoor Christmas market in Spikersuppa, and the Christmas market at Youngstorget. Nothing says 'a northern hemisphere Christmas' more than wandering the markets in Oslo, sipping on some hot gløgg (their version of mulled wine). If you can find it, a Christmas meal of pinnekjøtt (dry-cured ribs of lamb) is highly recommended too.
Zermatt, Switzerland
At the foot of the Matterhorn lies a town called Zermatt. Come Christmas time, this Swiss ski town transforms into a festive winter wonderland. If Santa wanted out of the North Pole for a bit of a snowchange, Zermatt would probably be his number one destination.
Everyone in Zermatt really gets into the Christmas spirit, with festive decorations and twinkling lights bringing the streets to life at night. And, just like New York, Zermatt flies a huge Christmas tree into the city centre each year.
Just to add to the quaint nature of the town, Zermatt has no cars and there are horses jingling up and down all the time. The best part? There's a high chance you'll get a generous sprinkling of snow come Christmas day.
Bamberg, Germany
Leave it to the world heritage city to go all out in telling the tale of Christmas. Not only is Bamberg renowned for it's Christmas markets, but visitors are flocking to the city at Christmas to follow the route of nativity scenes too.
There are 36 different cribs set up in museums, churches, private houses, and public spaces, each telling the nativity story in their own unique way. Grab a glühwein from the Christmas markets in old town to keep you warm, and set out on the trail.
Along the way, don't forget to stop and take in the decorations. Bamberg does an incredible job of spreading the Christmas cheer with lights, ornaments, and Christmas trees, especially in old town.
Lapland, Finland
Finnish Lapland is one of the coolest places to be over Christmas. No, seriously, it is. Pack 70 layers of thermals, because the temperature here ranges from -3 to -16 throughout December and January. It's the perfect place to seek out a white Christmas!
It's also one of Santa's other homes (apparently he has a few).
People from all over the world travel to Lapland to visit Santa Claus Village, and take a ride on a reindeer led sleigh. Obviously, the best time to do so is Christmas, but the village is open year-round.
Santa might only come to your home once a year, but there's no reason you can't drop in and visit him in Finnish Lapland!
Quebec City, Canada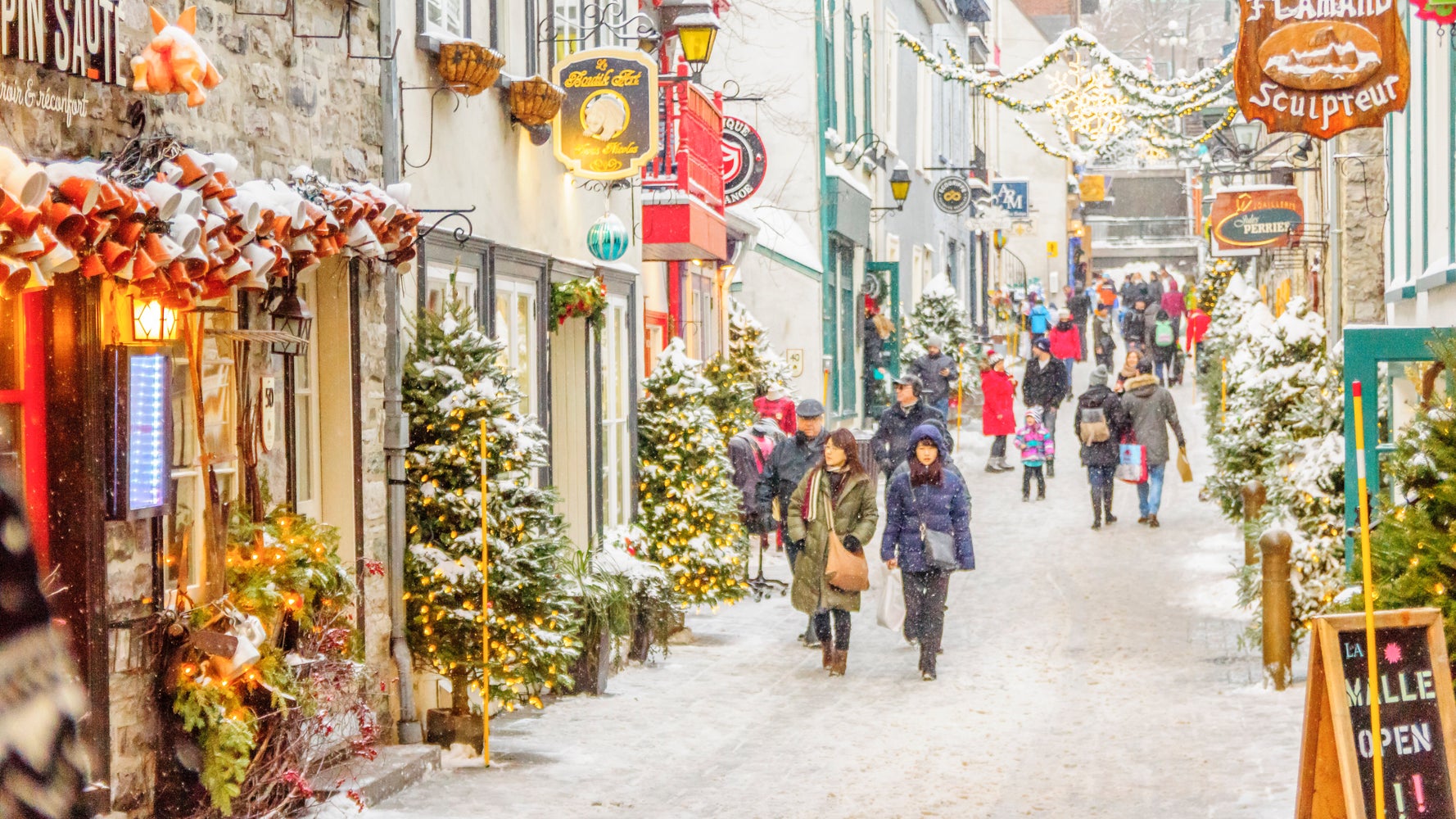 Santa's obviously not Canadian, but if he was, he would have hailed from Quebec. Nowhere else in Canada comes close to being as Christmassy. The quaint town is just the perfect combination of cute little shops, history, and glittering Christmas lights, all covered with a liberal dusting of snow.
Christmas sets in at the end of November in Quebec, when the cobblestone streets are transformed with Christmas trees, lights, and hanging garlands. It's the sort of Christmas every kid – big or small – dreams of. If you can't feel the magic as you wander the Christmas village in Quebec, there's no doubt you're at least part Grinch.
New York City, U.S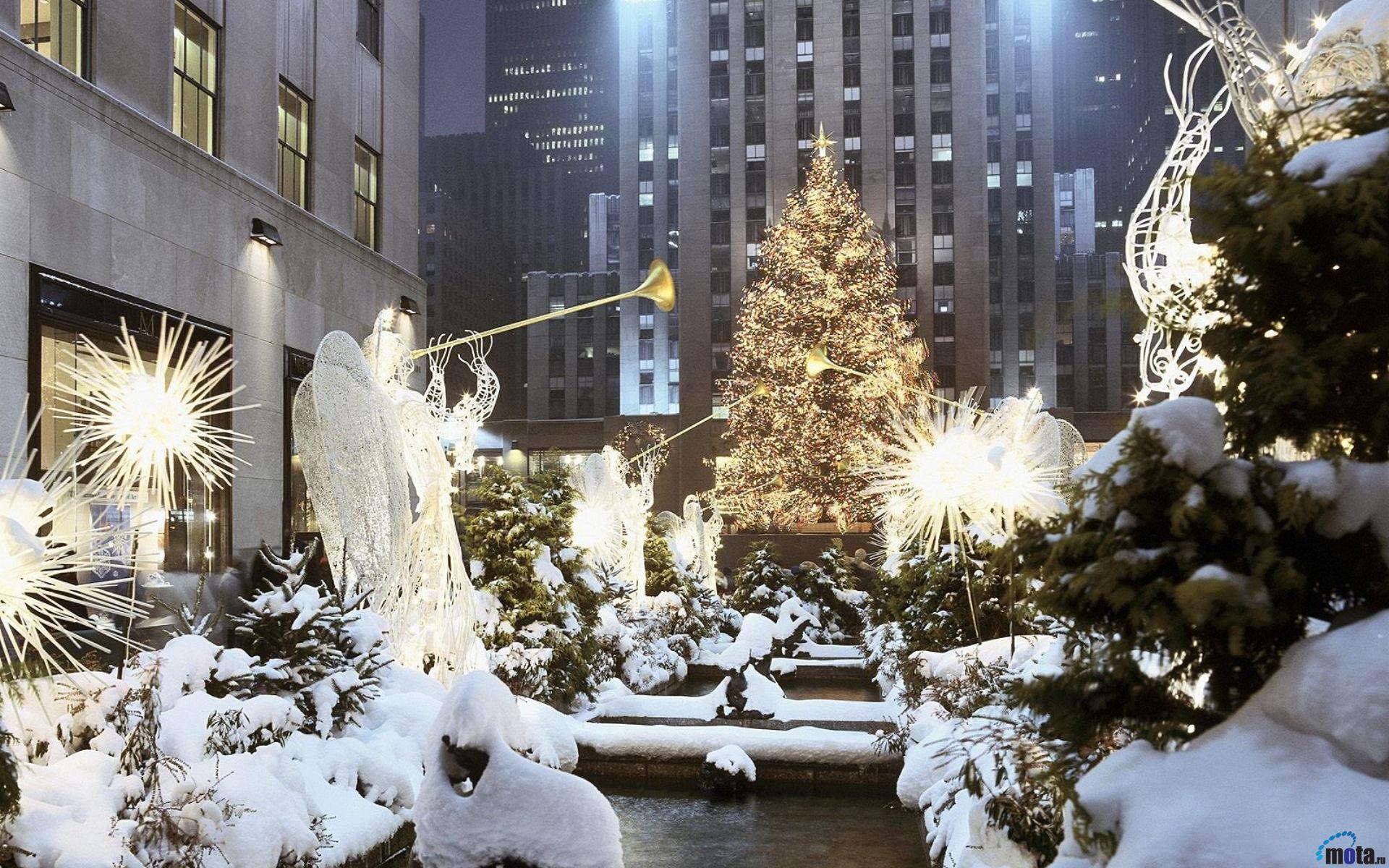 Ok, so this isn't your quiet little Christmas village.
But, New York City is the scene of many (if not, the most) Christmas movies of all. So it only makes sense that NYC makes the list.
New York Rockefeller Center comes to life at Christmas, with the iconic Rockefeller Christmas Tree taking centre stage. Make sure to rug up and hit the ice on The Rink – one of New York City's most celebrated attractions – all while taking in the sparkling surrounds (that iconic Christmas tree included).
With a high chance of snow and, of course, cold NYC winter conditions, you'll be sure to get a real winter Christmas experience in New York City.
If you're not into the cold, why not check out some festive Bali villas instead?